Details

Written by

Administrator

Category: Book Buzz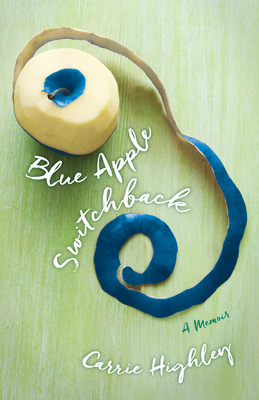 Blue Apple Switchback by Carrie Highley
She Writes Press
$16.90, paperback /$8.69, e-book
ISBN: 978-1-63152-037-2
June, 2016
Nonfiction: Memoir
Available from your local bookstore or www.Amazon.com
"Coming out is a long, hard road. Its twists, turns, and switchbacks can be painful and confusing, not only to the one coming out, but also to the ones she loves. In Blue Apple Switchback, Carrie Highley guides us through the sometimes-heartbreaking confusion of her path with bravery and tenderness. It is an important story that will surely help others find the way to accepting their true selves."
―Chris Lemig, author of The Narrow Way
"10 Favorite Books About Coming Out."
―SheKnows
"10 Books to take on a camping trip."
―Sunset Magazine
Carrie Highley was always a tomboy―and by the time she turned sixteen, she was wishing she were dancing with the girls instead of the boys at cotillion dances. In her early thirties, while living in West Virginia, she discovered a passion for road biking, finally stopped sequestering her deep feelings for women, and began an ill-fated love affair with a female cycling friend. Then, at thirty-six, she found herself skidding into Asheville, North Carolina, holding on tight to the coattails of her doctor husband and spending her time as a stay-at-home mother of two boys.
Moving to North Carolina was Highley's attempt to reembrace heterosexual married life after her tumultuous time in West Virginia. But in Asheville, she met Charlie, a fellow cyclist twenty-three years her senior, who became her mentor, friend, and father all rolled into one―and as they grew closer, she started unloading her fears into Charlie's inbox. With Charlie's support, Highley finally got the courage to do what she'd been waiting her whole life to do: go down the mountain with her hands off the brakes.
Carrie Highley grew up in the Piedmont of North Carolina before moving to the mountains and completing her bachelor's degree in Therapeutic Recreation at Western Carolina University in Cullowhee. After moving up and down the east coast for fifteen years, she has settled down in Asheville. She is an active member Asheville Writers, Blue Ridge Bicycle Club, and Adventure Cycling Association. Her writing has appeared online in Women's Health, Bicycling, SheKnows, and Popsugar. Blue Apple Switchback is her first book.
Details

Written by

Administrator

Category: Book Buzz
Broken Eagle by James T. Crouse
Caromount Island Publishing
$17.99, paperback / $3.99, e-book
ISBN: 978-0-0074712-0-5
June, 2016
Fiction: Thriller
Available from your local bookstore or www.Amazon.com
"James Crouse's gripping drama resonates with realistic details from his deep knowledge about the law, aviation, and the military. It's a page turner in the mode of Scott Turow and John Grisham."
—Sara Just, Executive Producer, PBS NewsHour and Senior Vice President WETA, formerly ABC News Nightline producer for seventeen years
"Broken Eagle leads the reader into a gathering vortex where a cutting-edge military aircraft with serious flaws, malevolent contractors, and complicit government program administrators with deadly self-protective agendas, and the widow of a military test pilot seeking answers swirl around a military-reservist aviation plaintiffs' lawyer who comes to realize he is at its center. Pursued by those with a deadly agenda, aided by shadowy allies and protected by his own wits and experience, Jake Baird finds the case he wasn't sure he wanted leading him to answers for questions he he'd been afraid to ask. Jim Crouse has the military aviation background and the aviation trial lawyer's experience to spin this story with gusto and credibility, which makes it very enjoyable—and just a little frightening—for the reader. Climb aboard, strap in and get ready for a memorable ride."
—Gary W. Allen, editor of the Lawyer-Pilots Bar Association Journal, Former Director, Aviation & Admiralty Litigation, Torts Branch, Civil Division, United States Dept of Justice
"A good man is hard to find, but the unputdownable—and deeply moral—Broken Eagle gives you two for the price of one: Jake, the finely drawn ex-Army lawyer and everyday hero, and Crouse, his creator, who clearly knows the world and ways of the law, the military and the South inside out—and who writes as assuredly and convincingly about women (hallelujah!) as about combat, aviation and courtrooms. In this tale's troubling and all-too-believable tangle of Washington politics, murderously venal business interests, and scorched-earth tours of duty, you'll want both of these guys on your side."
—Karen Shook, Books Editor, Times Higher Education, London
Following his service in a secret U.S. Army helicopter unit, attorney Jake Baird specializes in aviation personal-injury law in Raleigh, North Carolina. When young widow Lisa Thorpe seeks representation and help understanding the XV-11 crash that killed her husband, Jake ends up right where he doesn't want to be—taking on the U.S. military in a case that is almost impossible to win.
At a hastily arranged rendezvous just after meeting Lisa Thorpe, an anonymous, disheveled ex-military officer presses a folder of classified documents into Jake's hands with an ominous warning for Jake: "Watch your six." When Jake reads the file he understands the admonition: the file is full of classified documents showing a massive cover-up of the XV-11's flaws by governmental and corporate schemers intent on seeing the project continue for their own good, regardless of the cost in lives of the military persons operating the aircraft.
Jake soon finds his world crawling with men in dark suits and sunglasses who are intent on recovering the stolen XV-11 secret file and who are willing to do anything—including murder—to stop the dissemination of the damaging information. Jake is now confronted with risks to his own personal safety and the question of how to use the stolen classified information to help Lisa Thorpe—if he decides to take her case. But how can he, himself an Reserve Army aviator, remain silent, knowing that the aircraft's flaws endanger the lives of U.S. servicemen and women?
With the help of retired naval officer Stanford Kemp, Jake's irrepressible secretary, Florence, and his seer-suckered fellow lawyer Irwin Thompson, Jake devises an intricate plan to outmaneuver the lethal rogue government agents, the big corporations and the U.S. military, all of whom are intent on stopping him. Jake is in for the fight of his life--to save himself, do justice for Lisa Thorpe, and to save the lives of others.
James T. Crouse was born in Asheville and grew up in the small town of Lexington. He was graduated from Randolph-Macon Academy in Front Royal, Virginia, a military preparatory school, after which, as an Army ROTC Scholarship student, earned his B.A. in Political Science at Davidson College.
Upon graduation from Davidson, Mr. Crouse was commissioned in the U.S. Army as an Infantry officer, and attended helicopter flight school and Aviation Maintenance Officer Course and Test Pilot School as a Transportation Corps officer. During his initial six-year active duty career, he flew research and development flights for the Army's Night Vision Laboratory. He retired as a Lieutenant Colonel after having flown over 1500 hours in his twenty-six-year active and reserve career, performing medical evacuation, attack, and maintenance test flight duties.
Since graduating from Duke Law School in 1980, Mr. Crouse has practiced aviation and product liability law in which time he has represented several high-profile clients and was lead liability counsel in the world's largest civilian helicopter disaster (North Sea Boeing 234LR, 1986). Other notable experience includes major airline accident cases and general aviation, helicopter, and military crashes, as well as non-aviation mass disaster litigation. Over his career he has investigated over three hundred aviation crashes.
Mr. Crouse has co-authored a case law book, Aviation Law: Cases and Materials, which is critically acclaimed by scholars and practitioners. He is the editor-in-chief of Aviation Safety Blog, http://aviationsafetyblog.com, which is devoted to reducing aviation accidents, and is a published aviation and Civil War book reviewer for The Times of London Higher Education magazine.
Mr. Crouse has taught Aviation Law at Duke Law School, The George Washington University School of Law, and at St. Mary's University School of Law in San Antonio, Texas. He is a frequent speaker at aviation and legal symposia and has had numerous articles published in legal periodicals.
He lives in Raleigh with his wife and three children.