Book Buzz
Book Buzz is for press releases about new books and publications by our members. To submit your book to Book Buzz, send an email to This e-mail address is being protected from spambots. You need JavaScript enabled to view it
Be sure to include the following information:
a paragraph description of your book
author bio
ISBN#, price, publisher
title and author
a jpg image of the jacket
Written by Administrator
Monday, 19 August 2013 13:51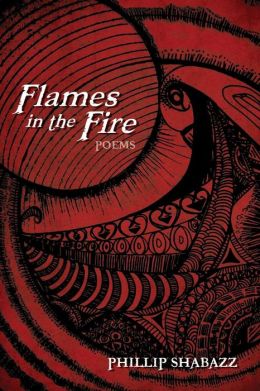 Flames in the Fire by Phillip Shabazz
Wasteland Press
$15.00, paperback
ISBN: 9781600478666
June, 2013
Poetry
Available from Barnes & Noble or www.Amazon.com
"This is a spectacular body of work...I don't use the word spectacular often. It wrenched me inside out and reassembled me whole. Shabazz naps with one eye open where suffering and courage encapsulate lifetimes of experience. Be careful, his poems shamelessly offer grenades in lunch boxes posed as gifts."
—Jaki Shelton Green, 2009 Piedmont Laureate, and winner of the North Carolina Award for Literature
"One word, AMAZING. A powerful, moving collection from a poet at the height of his powers... From passionate lyrics to meditative narratives, Shabazz's poems are peopled with unforgettable characters, real human beings, friends, family, revolutionaries and lost wild men lurking city streets for something more than a handful of change. This book is not a confessional rather a meditation on a life lived and confirms that to be the Phoenix one must first endure the fire, only then can one rise from the ashes."
—Howard L. Craft, poet, playwright
"In a world ruled by indifference in which the glimmer of past embers appear barely visible, Shabazz's words remind us that if we train our eyes to listen, it is obvious for all to see that from Ganazumba to Hotada Francis, from the rage of loss to the reinvention of the soul, from the end of a world to the building of that other world of collective love found in the sweetness of mother's cooking, Black Fire lives on!"
—Alvaro Reyes, Assistant Professor, University of North Carolina-Chapel Hill
In this poetry collection, Phillip Shabazz shares a journey about change, loss, transition, and renewal in many aspects of his life. He embraces the inner and outer fighting spirit of redemption. Flames in the Fire brings narratives both urgent and compelling, lyrics forged by fire, and a message handed down through generations.
Phillip Shabazz engages issues of community, race, and culture in America. He is the author of two collections of poetry, Freestyle and Visitation, and XYZoom. His other work is a novel in verse, When the Grass Was Blue.
Last Updated on Monday, 19 August 2013 09:01
Written by Administrator

Friday, 16 August 2013 13:32

 

 

 

 

 

 

 

 

 

 

 

 

Season of Change by Lisa Williams Kline

Zonderkidz
$10.99, hardcover / $7.99, e-book
IBSN: 978-0-310-74007-0
April, 2013
Fiction - Gr. 5-8
Available from www.Amazon.com

On a long weekend with Diana's grandparents, Stephanie and Diana face what could be their greatest fear: another divorce in their family. Diana and Stephanie find a hidden brochure for a marriage counseling retreat in Norm and Lynn's room, and their suspicions flare when they're dropped off at Diana's grandparents' home on Lake Norman for a "long weekend." Will there be another divorce? Things go from bad to worse when Diana hits a deer while practicing driving. Then Stephanie's mom shows up unexpectedly, and the girls are separated. Is it for good? Isn't that what they wanted? As the girls wonder what it would be like to not have to put up with each other, Diana finds something in the woods, and everything changes. This fifth and final book in the Sisters in all Seasons series brings the story of Stephanie and Diana to a close, and shows what happens when two opposites become friends, and maybe sisters.

Lisa Williams Kline is the author of eight books for readers 8-12, including Eleanor Hill, winner of the North Carolina Juvenile Literature Award, The Princesses of Atlantis, Write Before Your Eyes, and the five-book Sisters in All Seasons series.

Last Updated on Friday, 16 August 2013 08:43

Written by Administrator

Monday, 12 August 2013 13:30

 

Searching for Virginia Dare: On the Trail of the Lost Colony of Roanoke Island by Marjorie Hudson

Press 53
$17.95, paperback / $7.99, e-book
ISBN: 978-1-935708-87-2
May, 2013
Memoir
Available from your local bookstore or www.Amazon.com

"Hudson's writing style is fluid and poetic. . . . Those who value the art of writing as well as substance will enjoy this 'fool's errand.'"
—North Carolina Libraries Journal

Marjorie Hudson's book, Searching for Virginia Dare, gained critical acclaim from novelists, reviewers and historians alike when it first came out in 2002. Part detective story, part road trip, part memoir, the book explored the mysterious disappearance of Virginia Dare and the Lost Colony of Roanoke Island. Hudson's lyrical language and self-revelation brought a fresh flavor to the centuries-old tale of the first English child in America. This latest edition of Searching for Virginia Dare: On the Trail of the Lost Colony of Roanoke Island, from Press 53, features thirty-three additional pages detailing Hudson's continued fascination with the subject, seeking history and legend in Rome, London, and the Outer Banks of North Carolina.

Marjorie Hudson was born in a small town in Illinois, raised in Washington, D.C., and now lives in rural North Carolina. Her fiction collection, Accidental Birds of the Carolinas, won attention as a PEN/Hemingway Honorable Mention for Distinguished First Fiction, a Novello Literary Award Finalist, and Perpetual Folly's Best Story Collection of 2011. A North Carolina Arts Council Fellowship recipient, Hudson has published stories, essays and poems in five anthologies and many magazines and journals. She writes about outsiders encountering the South, whether they are English colonists or modern-day retirees, and she remains obsessed with the mystery and history surrounding the fate of Virginia Dare.

Last Updated on Thursday, 08 August 2013 17:01
<< Start < Prev

11

12 13 14 15 16 17 18 19 20 Next > End >>


Page 11 of 179
RSS
Feed Entries
Hat's Off!
Hats Off! to Joan Leotta, whose short story "Voice of an Angel" has won First Place in the 2013 Charlotte Writers' Club Contest!
Upcoming Readings & Events
Sun, Dec 8th, @2:00pm

-

04:00PM


Judy Hogan Reading
Mon, Dec 9th, @12:00pm

-

02:00PM


Celia Rivenbark Reading
Tue, Dec 10th, @5:30pm

-

07:30PM


Daniel Nathan Terry and Lisa Zerkle Reading
Tue, Dec 10th, @7:00pm

-

09:00PM


Henry F. Tonn Reading
Sat, Dec 14th, @3:00pm

-

05:00PM


Pop-Up Bookstore