Book Buzz
Book Buzz is for press releases about new books and publications by our members. To submit your book to Book Buzz, send an email to This e-mail address is being protected from spambots. You need JavaScript enabled to view it
Be sure to include the following information:
a paragraph description of your book
author bio
ISBN#, price, publisher
title and author
a jpg image of the jacket
Written by Administrator
Friday, 25 January 2013 14:00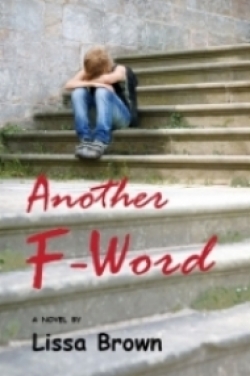 Another F-Word: A Novel by Lissa Brown
CreateSpace
Kindle, $6.99 / Paperback, $15.95
ISBN: 978-1481908450
January, 2013
Fiction
Available at www.Amazon.com
Gentle Rory Calhoun Wilson is the antithesis of the 1950s cowboy he's named for. He loathes sports, NASCAR, and everything else his father adores, putting the two on a collision course fueled by Darrell Wilson's inability to control contempt for his son's emerging homosexuality. Another F-Word is a story of bullying, courage, and love. It examines parental struggles to support a gay child, the role that schools and religious institutions play, the tragedy of teen suicide, and the ability of a rural Bible Belt boy to remain open to people who can influence his life in remarkable ways. Rory's is a story of triumph over the scarring effects of being labeled and bullied.
Each of Lissa Brown's careers has contributed to her current one, full-time author. She gained insight into adolescent behavior as a high school teacher and honed her writing skills and sense of the absurd during award-winning careers in marketing and public relations. She's been a media consultant to gubernatorial and legislative campaigns, a columnist, and speechwriter for public officials and corporate executives. She is the author of a humorous memoir, a young adult novel, and several published articles and essays. Another F-Word is her latest novel. www.lissabrownwrites.com.
Last Updated on Friday, 25 January 2013 14:04
Written by Administrator

Monday, 21 January 2013 16:00

 

 

 

 

 

 

 

 

 

 

 

 

 

School of the Americas by David Rigsbee

Black Lawrence Press
$14.00, paperback
ISBN: 978-0-9837945-0-9
January, 2013
Poetry
Available from the publisher, your local bookstore, or www.Amazon.com

"David Rigsbee's poems move with philosophical intensities. The perspectives the poems offer are complex, highly nuanced, rooted in critical engagements with a cultural tradition, and often less comfortable than the refusal of perspective practiced by more vertiginous writers."
—Robert McNama

David Rigsbee is the author of 18 books and chapbooks, including seven previous full-length collections of poems. His latest books, The Red Tower: New & Selected Poems and The Pilot House, a Black River Poetry Prize Chapbook, were both recently released. In addition to his poems, he has also published critical works on Carolyn Kizer and Joseph Brodsky. He has co-edited two anthologies, including Invited Guest: An Anthology of Twentieth Century Southern Poetry, a "notable book" selection of the American Library Association and the American Association of University Professors and featured on C-Span Booknotes. His work has appeared in The American Poetry Review, The Georgia Review, The Iowa Review, The New Yorker, The Iowa Review, The Ohio Review, Poetry, Prairie Schooner, The Sewanee Review, The Southern Review, and many others. Winner of the Pound Prize and the Vachel Lindsay Award, he has also been recipient of fellowships and awards from the National Endowment for the Arts, the National Endowment for the Humanities, The Fine Arts Work Center in Provincetown, The Virginia Commission on the Arts, The Djerassi Foundation, and the Academy of American Poets. He is 2010 winner of the Sam Ragan Award for contribution to the arts in North Carolina. Rigsbee is currently contributing editor for The Cortland Review.

Last Updated on Monday, 21 January 2013 11:13

Written by Administrator

Friday, 18 January 2013 13:58

 

 

 

 

 

 

 

 

 

 

 

 

 

Ink in the Wheels: Stories to Make Love Roll by S. Barton and Megan M. Cutter

Cutter's Edge Consulting, LLC
$15.97, paperback
ISBN: 978-1-4675-4459-7
February 15, 2013
Memoir
Available from the publisher and www.Amazon.com

A groundbreaking memoir about love, disability and perseverance, Ink in the Wheels: Stories to Make Love Roll is the unlikely story of Barton and Megan Cutter, and their journey to build a successful marriage despite others expectations. Barton Cutter, who has Cerebral Palsy never expected to fall in love, never mind getting married, and Megan was still grieving over the loss of a relationship and the death of her mother. Until now, there have been few accounts of a couple that addresses the themes of disability, intimacy, and marriage. Ink in the Wheels: Stories to Make Love Roll delves into themes of family influences and dynamics, creating external and internal support networks, direct support staff and the balance of care giving, losing faith in one another and themselves—and finding it again.

Watch the book trailer here.

With a BA in Creative Writing from the University of Arizona, Barton has created for himself and his family a life that speaks to his deepest values. His passion for helping others grow is evident in his writing, teaching martial arts, and life coaching, not to mention his ever-optimistic approach to life. He has written on disability-related issues for The Raleigh News & Observer, ABILITY Magazine, the NC Council on Developmental Disabilities, Persona Magazine, the NC Office on Disability & Health, and the NC Disability Action Network.

With a BA in English/Creative Journaling from Randolph-Macon Woman's College, Megan has focused her writing efforts by organizing local literary events and supporting the local writing community. Studying Aboriginal oral tradition in Alice Springs, Australia, she has distinctive ability to see many angles of the story and uses joy and laughter to honor these essential aspects of our stories.

Megan has published clips in Natural Awakenings, Med Monthly, News & Observer (North Raleigh News), Circa, and Jubilation. Her writing features local community organizations, emphasizes local sustainability, and brings together different communities into common goals.

Last Updated on Monday, 21 January 2013 11:16
<< Start < Prev 11

12

13 14 15 16 17 18 19 20 Next > End >>


Page 12 of 160
RSS
Feed Entries
Hat's Off!
Hats Off! to Mark Havlik, who won First Place for Fiction in the 2013 Pamlico Writers Competition for "What Lies Beyond Those Hills." His piece will appear in an upcoming all-literary issue of Washington The Magazine.
Advertisement
Upcoming Readings & Events