---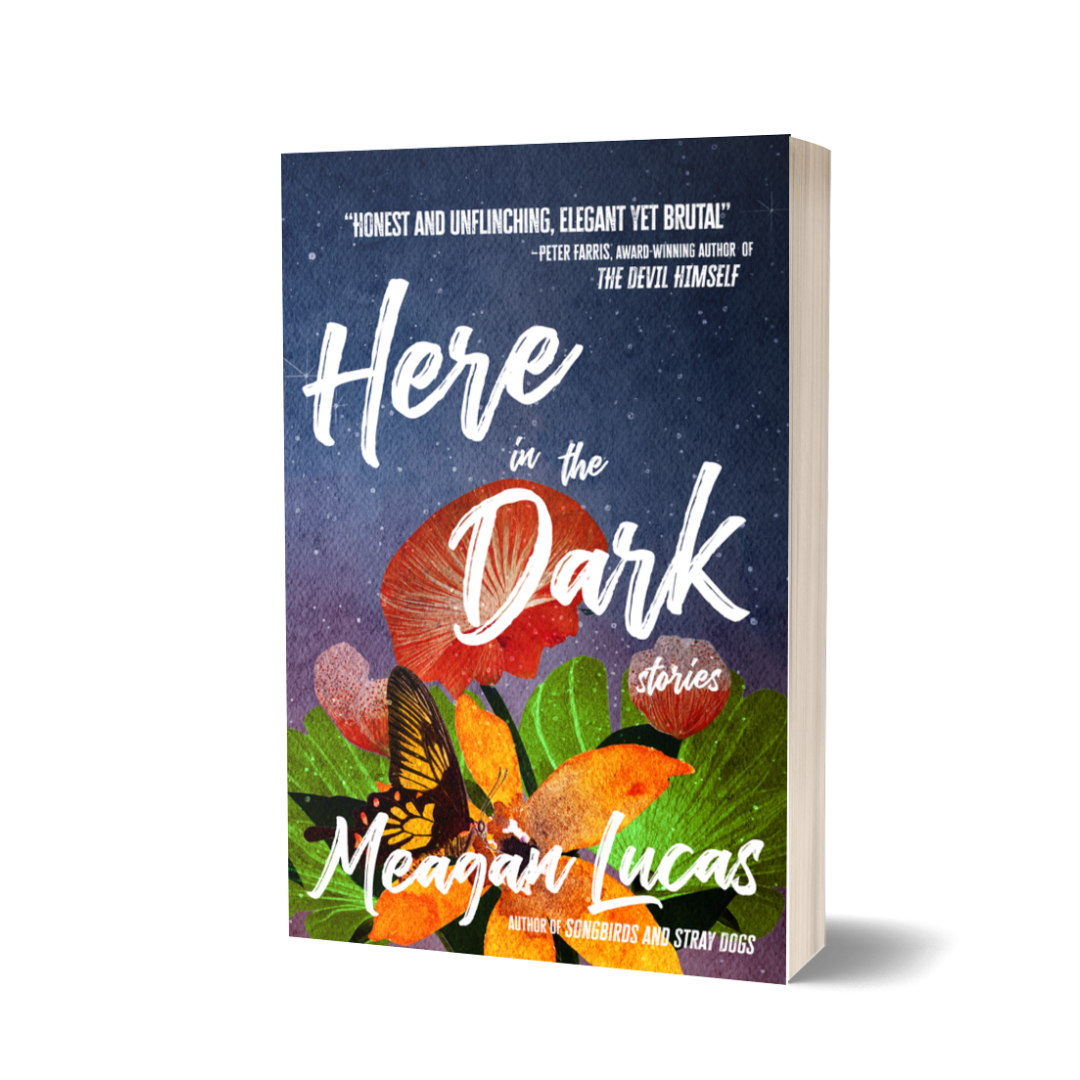 Here in the Dark: Stories
Publisher: Shotgun Honey
ISBN: 978-1-956957-20-4
Genre: lit fic, crime, short story collection
Price: $14.95 - paperback, $25.95 - hardcover, $4.99 - ebook
---
Here in the Dark, the first collection from award-winning author Meagan Lucas, is a gritty genre blending wallop of short stories, set mostly in Southern Appalachia, that explore the female experience of lawlessness. In the tradition of Dorothy Allison and Bonnie Jo Campbell, Lucas tackles, with unsettling honesty: poverty, addiction, motherhood, and social justice in an increasingly troubled cultural climate. These are character-driven stories about crime, but less a who-done-it mystery and more a meditation on how the vulnerable navigate a world devoid of true justice. Unflinching in its gaze, Here in the Dark is an ambitious collection from a bold and empathetic storyteller.
Perceptive, intimate, and brave, these sixteen stories encompass shame and forgiveness, loss and redemption, oppression and revolution, and signal a new way of thinking about power and trauma. In "Voluntary Action," a sheriff's deputy witnesses the overdose of a high school friend in her custody. In "Buttons," a little girl, bullied by the neighbor boy, gets her revenge with a needle and thread. In "Sitting Ducks," a hurricane bears down on mothers, daughters, and sisters in an un-evacuated women's prison. In "Asylum" an immigrant woman, suffering a terrible loss, sees ghosts in the hotel and houses that she cleans. In "Hell, or High Water" a young woman with Stockholm syndrome is abandoned by her kidnapper deep in the woods of Western North Carolina. And in "Here in the Dark," a newly clean addict is given the opportunity to start over with her son if only she'll snitch on her former lover and pimp, but discovers, of course, it's not that simple. Blending Lucas' musical prose with high-tension stakes, and resonant characters, Here in the Dark is a collection not to be missed.
---
Meagan Lucas is the author of the award-winning novel, Songbirds and Stray Dogs (Main Street Rag, 2019) and the forthcoming collection, Here in the Dark (Shotgun Honey, July 2023). Meagan's short work can be found in places like Still: The Journal, Bull Magazine, Pithead Chapel, Dark Yonder and Rock and a Hard Place. Meagan is Pushcart, Best of the Net, Derringer, and Canadian Crime Writers' Award of Excellence nominated, won the 2017 Scythe Prize for Fiction, and Songbirds and Stray Dogs was North Carolina's selection for the Library of Congress Center for the Book's 2022 Route 1 Reads program. She teaches Creative Writing at Robert Morris University and in the Great Smokies Writing Program at UNCA. Meagan is the Editor-in-Chief of Reckon Review. She lives in Western North Carolina.
You can find Meagan Lucas on Facebook, Instagram, Twitter, and on her website.
Reviews
"Meagan Lucas is one of the most exciting new voices in Southern fiction. In Here in the Dark, she crosses deeply nuanced portraits of compromised characters with genre-smashing narrative techniques, producing a collection of stories as exciting to read as they are beautiful and true. This one is something special."

Nathan Ballingrud, author of "The Strange and North American Lake Monsters"
"Meagan Lucas's Here in the Dark is powerful and poignant. The 16 stories in this collection are full of heart and hurt and horror, each one illuminating her darkened corner of rural America in unflinching, unvarnished prose. Her characters are wounded but surviving, their hometowns ravaged but resilient, their stories painful but beautiful. This a necessary, unforgettable book about people and communities most often forgotten, from one of the finest Southern literary authors writing today."

J. Todd Scott, author of "Call the Dark," "The Flock," "High White Sun," "The Far Empty," "This Side of Night," and "Lost River"
"Honest and unflinching, elegant yet brutal, Meagan Lucas illuminates the darkest corners of the human condition in this extraordinary collection. These are stories wrought with sympathy and pitch-perfect realism, exploring the heartaches and hard truths about addiction, class, gender, and the perils of parenthood. Like Claire Keegan and Dorothy Allison, Lucas renders characters with a breadth of range but never fails to show a mother's love to these damaged souls. Here in the Dark is the declaration of a considerable talent."

Peter Farris, award-winning author of "The Devil Himself" and "Last Call for the Living"