---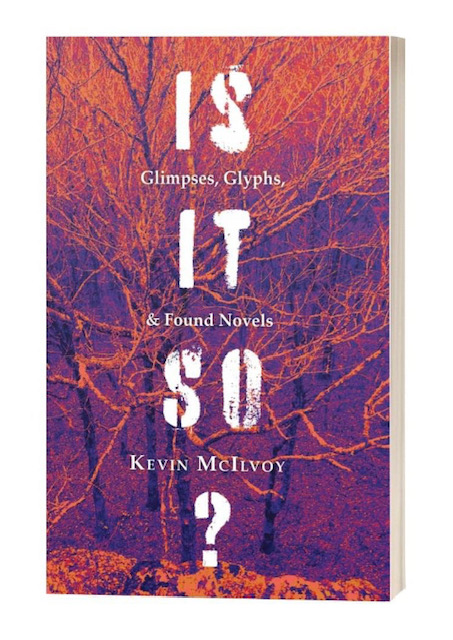 Is It So? Glimpses, Glyphs, & Found Novels
Publisher: WTAW Press
ISBN: 978-1-7336619-3-5
Genre: Fiction
Price: 18.95
---
Is It So? Glimpses, Glyphs, & Found Novels, the last work of fiction from Kevin McIlvoy, showcases the author's artistic dedication to the irreal, the carnivalesque, to ghost stories, fairy tales and the very short form—to writing that thrives in the edges, margins, and borderlands. Is It So? tunnels deep into the recesses of long-life experience. A retired dance instructor battles a flock of dive-bombing crows for control of his garden. A teacher and his students develop an uncommon bond with a toy parrot. A seeker in the alternate universe of a DMV is dispatched through numberless corridors to see the Clerk of Happiness. With clear-eyed yet transcendent vision, Kevin McIlvoy gifts readers "found" stories excavated from the everyday.
---
Kevin McIlvoy has published six novels, A Waltz (Lynx House Press), The Fifth Station (Algonquin Books of Chapel Hill; paperback, Collier/Macmillan), Little Peg (Atheneum/Macmillan; paperback, Harper Perennial), Hyssop (TriQuarterly Books; paperback, Avon), At the Gate of All Wonder (Tupelo Press), and One Kind Favor (WTAW Press); a short story collection, The Complete History of New Mexico (Graywolf Press); and a collection of prose poems and short fictions, 57 Octaves Below Middle C (Four Way Books). His short fiction has appeared in Harper's, Southern Review, Ploughshares, Missouri Review, and other literary magazines. His short short stories, poems, and prose poems have appeared in Scoundrel Time, The Collagist, Pif, Kenyon Review Online, The Cincinnati Review, The Georgia Review, Prime Number, r.k.v.r.y, Willow Springs, Waxwing, and numerous other literary magazines. He received a National Endowment for the Arts Fellowship in fiction. For twenty-seven years he was fiction editor and editor in chief of the national literary magazine, Puerto del Sol. He taught in the Warren Wilson MFA Program in Creative Writing from 1987 to 2019; he taught as a Regents Professor of Creative Writing in the New Mexico State University MFA Program from 1981 to 2008. He served as a fiction faculty member at national conferences, including the Ropewalk Writing Conference (Indiana), the Rising Stars Writing Conference (Arizona State University), the Writers at WorkConference (Utah), and the Bread Loaf Writing Conference (Vermont). He was a manuscript consultant for University of Nevada Press, University of Arizona Press, University of New Mexico Press, Indiana State University Press, University of Missouri Press, and other publishers. From 2017-2020 he served as a fiction editor for Orison Books. He served on the
Board of Directors of the Council of Literary Magazines and Presses and the Association of Writers and Writing Programs. He died September 30, 2022.
Reviews
With this mash-up of the metaphysical and the mundane, McIlvoy ends the book, having shown us that none of our stories is simple; none of us can be reduced to a single personality or plot line. We are left to marvel at McIlvoy's tremendous artistic gift that has led us through so many unknown dimensions — his command of music and sound, light and color, motive and movement.

Helen Fremont
For McIlvoy, writing fiction wasn't about offering ready-made answers of plot or circumstance, but always asking himself the hard question – is this really so?  He tuned into the self-talk of his characters, grounding the point of view deep inside those eddying streams of thought. Rather than just clever wordplay, McIlvoy's inventions feel truer to our experiences of Life and Death.

Dale Neal