---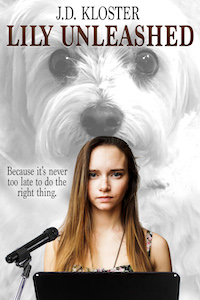 Lily Unleashed
Publisher: Empty Cages Press
ISBN: 979-898553160
Genre: Upper Middle Grade Fiction
Price: Kindle Edition: $3.99, Paperback: $13.99
---
In the spirit of classics like Because of Winn Dixie and How to Steal a Dog comes the story of an underdog whose love inspires one girl to speak up for this traumatized puppy mill rescue as well as the others awaiting release from their locked cages.
When sixth-grader Lily Grabowski takes in her teacher's puppy-mill rescue dog, without parental permission, it sets off a chain of events that challenges her dog smarts, self-esteem, and ideas about what it means to be a true friend.
As Lily's heart opens to this tiny dog, complications mount. Cagney howls all day because of separation anxiety. Lily's nemesis neighbor threatens to call the dog warden about a noise nuisance. BFF drama threatens Lily's class project on why underdogs matter. Lily's over-protective mom issues a thirty-day ultimatum, and Lily's guilty conscience grows while a broken promise looms.
Jo Anna Kloster is a retired educator and author of the debut middle-grade novel Lily Unleashed. Like Lily, her main character, Jo Anna is a late-bloomer. Just before turning thirty, she earned her BA in communications from Rutgers. A decade later she earned a teaching certification and began a journey that changed her life for the better. She believes good things come to those who wait. In 2012 she earned a teacher of distinction award from the Green Bay Chamber of Commerce. Her students have enriched her life more than she can ever express. For a decade, Jo Anna studied the problems inherent in commercial dog breeding facilities AKA puppy mills after her family adopted puppy mill survivor Cagney. As a Humane Policy Volunteer Leader, she works on the Stop Puppy Mills campaign with the Humane Society of the United States. Jo Anna enjoys living near North Carolina's crystal coast with her husband and tiny rescued Papillion. In her free time she promotes heart singing by gardening, doggie hugging, writing and playing hard - not necessarily in that order.
Reviews
Charming and informative…poignant touching narrative…Kloster shows how a young person can truly make a difference on an issue that matters to them.

Rory Kress, award-winning journalist and author of

The Doggie in The Window
Lily Unleashed is a remarkable story that ideally captures the challenges and the joys of rescuing a puppy mill dog. The story is not only a strong motivator for our youth to want to undertake important causes, but is empowering by showing how one ordinary adolescent can truly make a difference. Animals around the world are in need of caring advocates like Lily  –  and every young person can become one. Just think about the potential for good in the world if everyone did.

Franklin D. McMillan, DVM, Diplomate. American College of Animal Welfare
I wish Lily Unleashed had been available when I was young. This is a wonderful story that shines a light on the cruel reality of puppy mills, but also, more importantly, imparts a positive and inspiring message that will motivate readers to use their talents to make the world a more humane place. I hope every junior high in the country will have copies of Lily Unleashed in their library.

John Goodwin, Senior Director, Stop Puppy Mills Campaign, The Humane Society of the United States