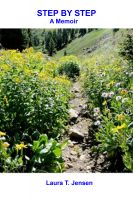 Step by Step: a Memoir by Laura T. Jensen
Smashwords
$1.99, e-book
ISBN: 978-1476081663
July, 2012
Nonfiction
Available through the publisher
Step By Step is a memoir. A collection of short creative non-fiction pieces, which represent segments of my life. They are recollections of people, places and events; some big, some small, some happy, some sad. These stories richly reflect the times and, of course, me and my friends and family.
A writer of fiction and creative nonfiction, Laura T. Jensen is a member of the North Carolina Writers' Network. Interested in continuing to hone her craft, she has attended numerous writing workshops including: Finding The Story, UNC-CH Friday Center; Diary Writing, Chatham Community College; Personal Essay Writing, Sheila Bender; and Amherst Writers and Artists, Part I & II.
Laura lived her early life in Bergen County, New Jersey. She attended public schools in both Bergenfield and Westwood and graduated from Westwood High School. A graduate of Lasell College (2011 recipient of the Lasell Medallion and member, Board of Overseers), Laura spent eighteen years in the human resources and training departments of a large organization in New York City. Until recently, Laura and her husband (Jack Hyer) ran a boutique executive search firm specializing in positions in non-profit organizations.