Details

Category: Network News
RALEIGH—For the third year in a row, NCWN members swept first, second, and third place in the Rose Post Creative Nonfiction Competition.
Heather Bell Adams of Raleigh won first place for her essay "Show Me." She will receive $1,000, and ecotone will consider her essay for publication.
"What begins with the speaker's marveling at a quirky aunt blossoms into a portrait of a complex woman whose idiosyncrasies might point to a number of things, but the writer refuses to pigeonhole her with an armchair diagnosis," final judge Destiny O. Birdsong said of the winning essay. "Instead, Aunt Cille is given the grace to be both strange and beautiful, both whimsical with and watchful of the children put in her charge. In an essay that begins with a memory and ends with a wish, the writer reminds us of the great gift of being raised by perfectly imperfect people who teach us how to live robustly, how to defy openly, and how to dream unapologetically."
A lifelong North Carolinian, Adams is the author of the novels Maranatha Road (West Virginia University Press, 2017) and The Good Luck Stone (Haywire Books, 2020). Her short fiction appears in The Thomas Wolfe Review, Atticus Review, The Petigru Review, Broad River Review, Pembroke Magazine, and other journals.
Birdsong selected "Cows and Cairo" by Emily Dunlap Carter for second place, saying "There's so much to love about this portrayal of a stoic father, a loving but reticent child, and how a farm family makes ends meet in the face of big business and the vicissitudes of farm life. I love how the child speaker is quick to tell us so much about what they know, but has no idea that they will one day follow in their father's footsteps. It's a surprise ending that makes the memory of a cattle sale all the more prescient, and all the more touching."
Carter grew up in the North Carolina Sandhills, went to Appalachian State University, and currently lives in Beaufort. She is a board member of The Writers' Exchange and a contributor to Haunted Waters Press.
Charlotte's Lucinda Trew took third place with her essay "The Lessons We Learn in Dressing Rooms," of which Birdsong said, "In this funny, instructional essay about how to find the clothes that best fit you, the writer offers us a charming slice of Southern life, from the boutique owners who lovingly point you to overlooked ensembles, to the Carolina-raised daughter who can be both well-mannered and blunt when rejecting her mother's sartorial suggestions. I found myself smiling, nodding, and remembering with this essay. Reading it felt like being home."
Trew holds degrees in journalism and English from the University of North Carolina at Chapel Hill and is an award-winning speechwriter, poet, and essayist. Her work has appeared in The Fredricksburg Literary and Art Review, The Poet, Cathexis Northwest Press, The Bangor Literary Journal, San Pedro River Review, Flying South, Medium, The Mighty, Blunt Moms, Boomer Café, and other journals. She lives and writes in Charlotte.
Sponsored by the North Carolina Writers' Network, and administered by the creative writing department at UNC-Wilmington, the Rose Post Creative Nonfiction Competition encourages the creation of lasting nonfiction work that is outside the realm of conventional journalism. The contest is open to any legal resident of North Carolina or member of the NC Writers' Network.
Rose Post worked for the Salisbury Post for fifty-six years as a reporter, feature writer, and columnist. She won numerous state and national awards for her writing and earned the NC Press Women's top annual award four times. She received the O. Henry Award from the Associated Press three times, the Pete Ivey Award, and the School Bell Award for educational coverage. Nationally, she won the 1989 Ernie Pyle Award, the Scripps Howard Foundation National Journalism Award for human-interest writing, and the 1994 National Society of Newspaper Columnists' Award.
The nonprofit North Carolina Writers' Network is the state's oldest and largest literary arts services organization devoted to writers at all stages of development. For additional information, visit www.ncwriters.org.
Details

Category: Network News
WINSTON-SALEM, NC—Readers have favorite characters or characters we love to hate; we enjoy being wowed by epic landscapes or having our brain tickled by tricky mysteries. But what keeps us turning pages is conflict. 
In early drafts, it's easy for writers to forget that dramatic tension is the engine that drives the story. The trick, of course, is to build that tension naturally.
On Saturday, April 24, at 10:30 am EDT, as part of the North Carolina Writers' Network Online Spring Conference 2021, author and longtime workshop leader Zelda Lockhart will lead the fiction session "Dramatic Tension and the Core of Hope vs. Fear."
Registration is open.
The cost is "Pay What You Can." Can you pay $5? $1? $0? Cool, come join us!
In this session, Zelda will lead participants through a fun and enlightening writing exercise from The Soul of the Full-Length Manuscript. This workshop will help you build realistic, authentic dramatic tension for your fictional characters.
Zelda Lockhart holds a Ph.D in Expressive Arts Therapies, an MA in Literature, and a certificate in writing, directing, and editing from the New York Film Academy. Her latest books include Diamond Doris: The True Story of the World's Most Notorious Jewel Thief by Doris Payne with Zelda Lockhart, and The Soul of the Full-Length Manuscript: Turning Life's Wounds into the Gift of Literary Fiction, Memoir, or Poetry. Lockhart is author of novels Fifth Born, a Barnes & Noble Discovery selection and a Zora Neale Hurston/Richard Wright Award finalist; Cold Running Creek, a Black Caucus of the American Library Association Honor Fiction Awardee; and Fifth Born II: The Hundredth Turtle, 2011 Lambda Literary Award finalist. She is Director at Her Story Garden Studios: Inspiring Black Women to Self-Define, Heal and Liberate Through the Literary Arts, and Publisher at LaVenson Press: Publishing for Women & Girls of Color. Organizations globally have recognized Dr. Lockhart's talent as an inspiring teacher, facilitator and public speaker.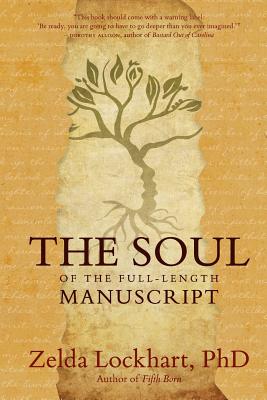 The Soul of the Full-Length Manuscript helps you take the stuff that has been making a mess of your life and use it instead to make art, harmonized with craft. It acts as creative companion for individuals (those with or without writing experience) as they journey through the sharing of an impactful event in life, do exercises that help them transform internal obstacles into external gifts, and then write resolution and outcome. At times, you will feel that the book is designed to produce a new emotional, psychological, and spiritual you and that your resulting manuscript is merely the byproduct. Both are true of the design, because the purpose of art is to make yourself vulnerable about your experiences here in life—to have the courage to be vulnerable about those experiences so that you can connect with others who came here solo like you and will leave solo just like you. And that process of sharing is transformative.
Other features of the NCWN Online Spring Conference 2021 include classes on creative nonfiction, poetry, and the business of books, as well as faculty readings, open mics, and an online picnic lunch social hour. Spring Conference is available to anyone with an internet connection, or who even owns just a telephone. 
Register here.
The nonprofit North Carolina Writers' Network is the state's oldest and largest literary arts services organization devoted to writers at all stages of development. For additional information, visit www.ncwriters.org.
Details

Category: Network News
NOWHERE, NC—For a little while longer, we need to stay home, and not travel across this beautiful state.
So since we're not supposed to go anywhere, why not go places that aren't really there?
The North Carolina Literary Hall of Fame, the NC Literary Map, and the NC Literary Review are launching the online NC Quarantine Literary Tour: a mountains-to-sea virtual journey to fictional places created by some of the state's most accomplished authors.
To celebrate, they will host an online event 7:00 pm, Thursday, February 18. The event is free to join. Registration is closed.
The Quarantine Tour features nine places created by NCLHOF inductees in and for fictional works:
Wellington, from The Marrow of Tradition by Charles W. Chesnutt
Fulton, from Life After Life and other works by Jill McCorkle
Tims Creek, from A Visitation of Spirits and other works by Randall Kenan
Falls, from Oldest Living Confederate Widow Tells All and other works by Allan Gurganus
Colleton County, from the Deborah Knott mystery series by Margaret Maron
Listre, from Raney and other works by Clyde Edgerton
Stone County, from Tall Houses in Winter and other works by Doris Betts
Altamont, from Look Homeward, Angel and other works by Thomas Wolfe
Thicketty Creek, from The Tall Woman by Wilma Dykeman
During the February 18 event, the Quarantine Tour will "stop" at each site through an excerpt by the place's creator, describing their fictional setting.
A cross-section of North Carolina authors will read these excerpts. In addition to McCorkle and Edgerton reading their own work, the tour will be led by 2020 NCLHOF inductees Bland Simpson and Carole Boston Weatherford reading excerpts by Betts and Chesnutt; Appalachian authors Annette Saunooke Clapsaddle and Leah Hampton reading Wolfe and Dykeman; Eastern NC authors Cindy Brookshire and Jason Mott reading Maron and Kenan; and NCWN executive director Ed Southern reading Gurganus.
To take the NC Literary Quarantine Tour, visit http://library.uncg.edu/dp/nclitmap/tours/details/NCLHOF.
Registration for the February 18 event is closed.
Opened in 1996 at the Weymouth Center in Southern Pines, the North Carolina Literary Hall of Fame celebrates and promotes the state's rich literary heritage by commemorating its leading authors and encouraging the continued flourishing of great literature. It is more than a museum housing photographs and archives. Overseen by the North Carolina Writers' Network, the NCLHOF honors North Carolina writers through programs, services, and opportunities for children and adults.
Created by the University Libraries at the University of North Carolina at Greensboro, the mission of the North Carolina Literary Map is to highlight the literary heritage of the state by connecting the lives and creative work of authors to real (and imaginary) geographic locations. Through the development of a searchable and browseable data-driven online map, users are able to access a database, learning tools, and cultural resources, to deepen their understanding of specific authors as well as the cultural space that shaped these literary works.
The North Carolina Literary Review (NCLR) is produced at East Carolina University and published and distributed by the University of North Carolina Press. NCLR publishes poetry, fiction, and nonfiction by and interviews with North Carolina writers and articles and essays about North Carolina writers and the rich literary history and culture of the Old North State. The print issue is published annually in the summer. It is available via subscription and in independent bookstores across the state. Since 2012, a separate, open access online issue is released in the winter.