Details

Written by

Administrator

Category: Network News
GREENSBORO, NC—Gabrielle Freeman of Greenville, NC, is the winner of the 2015 Randall Jarrell Poetry Competition for her poem, "Failure to Obliterate."
She will receive $200 and publication in a special supplement of storySouth.
"Combining a haunting and incandescent world with full attention to sound textures, 'Failure to Obliterate' is wholly original," final judge William Wright said. "Centered on the motif of the manta ray, the speaker and the reader are drawn into a primordial, fully realized world in which identity conflates with other realities, other sentience."
Gabrielle Brant Freeman's poetry has been published or is forthcoming in many journals including Beecher's Magazine, Chagrin River Review, Gabby, Hobart, Melancholy Hyperbole, Minetta Review, Shenandoah, and Waxwing. She has been nominated twice for the Best of the Net, and she was a finalist in 2014. In 2013, she earned her MFA in poetry through Converse College. Gabrielle lives with her family in Eastern North Carolina where she blogs about poetry at www.whythewritingworks.com, and about writing and all things random at www.ladyrandom.com.
"There is a sense of loss and danger here, of 'scarred skin [at the] throat'; simultaneously, there is a Stevens-like otherworldliness that delights in the imagination," Wright said. "'Failure to Obliterate' is centered, understandable, surprising, and genuinely beautiful."
The first runner-up was "Testimony" by Ann Deagon of Greensboro. "Every Field of Paradise" by Chapel Hill's Ralph Earle was second runner-up.
Honorable Mentions went to Malaika King Albrecht for her poem "The Way Desire Touches"; Michael White for "Blackout"; and Luke Hankins for his poem "Divided."
The Randall Jarrell Poetry Competition honors the work and legacy of the poet and critic Randall Jarrell, who taught at what is now the University of North Carolina at Greensboro for nearly eighteen years.
The competition is open to any writer who is a legal resident of North Carolina or a member of the North Carolina Writers' Network, and is administered by Terry L. Kennedy and the Graduate Program in Creative Writing at UNCG.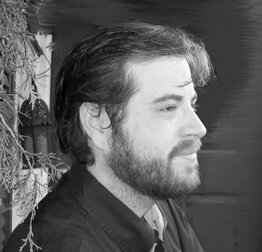 Final judge William Wright was the winner of the 2012 Porter Fleming Prize for Poetry, and is the author of four full-length poetry collections, including the forthcoming Tree Heresies (Mercer University Press). His chapbook Sleep Paralysis (Stepping Stones Press, 2012) won the South Carolina Initiative Prize. His work has appeared in various literary journals including Kenyon Review, Crab Orchard Review, and The Southern Poetry Review.
Wright is the founding editor of Town Creek Poetry and series editor of The Southern Poetry Anthology. He currently serves as a contributing editor for Shenandoah and has reviewed poetry and interviewed poets for Oxford American. Wright will serve as the Writer-In-Residence at the University of Tennessee in the spring of 2016.
storySouth is an online literary journal dedicated to showcasing the best poetry (and fiction and creative nonfiction) that writers from the "new south" have to offer.
The nonprofit North Carolina Writers' Network is the state's oldest and largest literary arts services organization devoted to writers at all stages of development. For additional information, visit www.ncwriters.org.
Details

Written by

Administrator

Category: Network News
GREENVILLE—Registration is now open for the North Carolina Writers' Network 2015 Squire Summer Writing Residency.
The Residency runs Thursday, July 23, through Sunday, July 26, at East Carolina University in Greenville, NC. The long weekend offers intensive workshops with accomplished instructors, group events such as readings and discussions, a chance to share work with other dedicated writers, and a unique opportunity to bond with writers from across the state and beyond.
Registrants will spend the entire weekend in one workshop, in either fiction, poetry, or creative nonfiction. Participation is limited to the first sixteen qualified registrants in each workshop, for a total of forty-eight attendees. For more information, and to register, click here.
Jan DeBlieu will lead the Creative Nonfiction workshop.
Which stories in our lives most demand to be told? What themes connect them? We will study the art of the personal essay, in which scraps of material with no apparent connection can be woven together to form elegant, compelling narratives. We will learn to create what John Gardner called the "fictive dream": writing that, whether invented or true, draws readers wholly into our worlds.
Jan is the author of four nonfiction books and has published dozens of articles and essays in national magazines. Her fifth book, in progress, explores how working to benefit others can heal even the most badly broken heart. Until 2009 she concentrated on writing about the natural world and how our attachments to our landscapes—the places through which we move each day—help shape who we are.
The Poetry workshop will be led by Amber Flora Thomas.
This workshop will provide space and time for participants to generate new poems, evaluate existing poems, and engage with tool building activities and discussions to inspire revision and more writing. Our time will be divided between the critique of existing poems and the crafting of new poems. The environment in this workshop is one of support and encouragement, welcoming self-expression, and development for writers at all levels. Participants will submit three poems in advance of the workshop, all of which should not have been in a workshop elsewhere. Please be prepared to write during and outside workshop sessions, using writing prompts designed to help you "stumble to the door" and find those poems, no matter what.
Amber is the recipient of several major poetry awards, including the Dylan Thomas American Poet Prize, Richard Peterson Prize and Ann Stanford Prize. The author of two collections of poetry, she is an Assistant Professor of Creative Writing at East Carolina University.
The Fiction workshop will be led by Luke Whisnant.
In fiction we're always using patterns and shapes, whether deliberately or intuitively. A character tears up her life and hits the road: Journey. An older couple stays home and an angry grandson comes to spend the week: Visitation. A husband and wife are in bed talking, remembering, and watching a movie: Onion. A character dies and everyone in the book goes to the funeral: Gathering. Using these and other shapes from Jerome Stern's Making Shapely Fiction, plus some not included in the book, this workshop will help you identify, deploy, and exploit some patterns in your fiction. We'll also learn about character routines, emotional connect/disconnect, the unique event, lingering in your key scenes, and mashing up a model story. And as time permits, we'll write a few short pieces using prompts.
Luke is the author of the story collection Down in the Flood, the poetry chapbooks Street and Above Floodstage, and the novel Watching TV with the Red Chinese, which was made into an independent film in 2011. He edits the journal Tar River Poetry, and is Professor of English at East Carolina University, where he has twice won his department's Excellence in Teaching award.
East Carolina University, in Greenville, lies about halfway between the Triangle and North Carolina's coast. Support for this residency is provided by the NC Arts Council, the Community Foundation of Western North Carolina, and the family of Chick and Elizabeth Daniels Squire. Registration is open.
The North Carolina Writers' Network is a nonprofit 501(c) (3). For more information, visit www.ncwriters.org.