This week, readers across the world have made it their aim to "blackout" bestseller lists with titles by Black authors:
"To demonstrate our power and clout in the publishing industry, June 14 – June 20, we encourage you to purchase any two books by Black Writers. Our goal is to Blackout Bestseller lists with Black Voices."
Earlier this week, we recommended six titles by inductees of the North Carolina Literary Hall of Fame.
But if you're anything like us, you're always looking for something else good to read. Why not try one of these titles from Black-owned small presses with ties to North Carolina?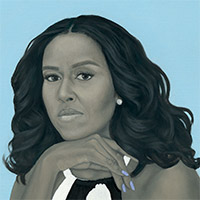 American Herstory by celeste doaks
Backbone Press: www.backbonepress.org
A collection of brilliant poems that speak to and about former First Lady Michelle Obama. Spanning themes of family, art, gardening, and race, they are as lighthearted as they are heavy. American Herstory is the winner of the inaugural Backbone Press Chapbook Award. "American Herstory is an intimate, inspirational, and occasionally hilarious meditation on Michelle Obama," says Entropy magazine. "But the collection also says something dead-serious and vital—that women, especially black women, are still ready to fight."
Black From the Future: A Collection of Black Speculative Writing (Stephanie Andrea Allen and Lauren Cherelle, editors)
BLF Press: www.blfpress.com
Black From the Future: A Collection of Black Speculative Writing encompasses the broad spectrum of Black speculative writing, including science fiction, fantasy, magical realism, and Afrofuturism, all by Black women writers. "Within this revelatory 22-piece anthology of prose and poetry across the horror, fantasy, and science fiction genres, editors Allen and Cherelle have gathered works by some of the best and boldest voices in African-American speculative writing," says Publisher's Weekly in a Starred Review. "There's something for everyone in this outstanding anthology."
The Soul of the Full-Length Manuscript by Zelda Lockhart
LaVenson Press: www.lavensonpress.com
Utilize your emotional, psychological, and spiritual self to produce the first draft of a full-length manuscript. This book acts as creative companion for individuals (those with or without writing experience) as they journey through the sharing of an impactful event in life, do exercises that help them transform internal obstacles into external gifts, and then write resolution and outcome. "This book should come with a warning label," says Dorothy Allison, author of Bastard Out of Carolina. "Be ready, you are going to have to go deeper than you ever imagined.'"
Just Do You by Trina Ramsey
Minerva Rising Press: www.minervarising.com
A practical guide to help women over 40 live their best life. Are you stuck in autopilot? Do you go through each day putting one foot in front of the other with little thought about why? Are you happy and fulfilled in your life? If not, what would you do differently? Through journaling and self-reflection, Just Do You! uses life lessons to challenge women over forty to confront their limiting beliefs and open the door to a more peace, joyous life. Trina Ramsey is a life coach and speaker specializing in personal transformation, with over twenty years of experience in business, fundraising, and management. She created the Just Do You Institute for Women s Empowerment for women over forty who are ready to live full, fearless, and authentic lives.