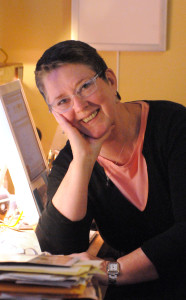 Longtime North Carolina Writers' Network member Carrie Knowles, of Raleigh, has been selected as the 2014 Piedmont Laureate in the Short Story.
As Piedmont Laureate, Knowles will receive an honorarium and serve until December 31, 2014. Her duties will include presenting public readings and workshops, participating at select public functions, and creating at least one original activity to expand appreciation of short fiction.
Knowles also will lead a workshop at the NCWN 2014 Spring Conference, "Market Your Book – with Imagination," with Peggy Payne. This workshop is an opportunity for registrants to "sit at the feet" of the current Piedmont Laureate and learn how to improve their book's sales, using the very ability that started them writing in the first place: imagination. Attendees will learn tactics and strategies for books and book ideas that other workshop participants bring in.
Spring Conference is a full day of intensive workshops in fiction, nonfiction, poetry, book marketing, and the "art of the pitch." Other features include faculty readings, on-site "lunch with an author," publisher exhibits, and an open mic for conference participants. Special Sessions include "Speed Pitch," where registrants will have the opportunity to pitch their manuscript to four literary professionals, and "One City, One Prompt," led by Jacinta V. White. For more information, and to register, click here.
The Piedmont Laureate program is dedicated to building a literary bridge for residents to come together and celebrate the art of writing. Co-sponsored by the Durham Arts Council, City of Raleigh Arts Commission, Alamance County Arts Council, Orange County Arts Commission, and United Arts Council of Raleigh & Wake County, the program's mission is to "promote awareness and heighten appreciation for excellence in the literary arts throughout the Piedmont region." The program focuses on a different literary form each year. Past laureates include NCWN board member Zelda Lockhart (2010); 2013 Spring Conference faculty member Scott Huler (2011); and poet Jaki Shelton Green (2009).
Knowles has been a freelance writer, arts advocate, and organizer for 45 years. She has published dozens of short stories and three books: a memoir titled " (Three Rivers Press, 2000) and two novels, Lillian's Garden and Ashoan's Rug (Roundfire Books, 2013). Noted as one of the top books of 2013 by The Salisbury Post, Ashoan's Rug is a novel created from a series of ten linked short stories. Ms. Knowles' short stories have won numerous awards, including the Village Advocate Fiction Contest, the Blumenthal Writers & Readers Series, the North Carolina Writer's Network Fiction Syndication, and Glimmer Train's Very Short Fiction Competition. She was named twice as a finalist in other Glimmer Train competitions, was a finalist in the Doris Betts Fiction Contest, and received an honorable mention in the National Literary Awards.