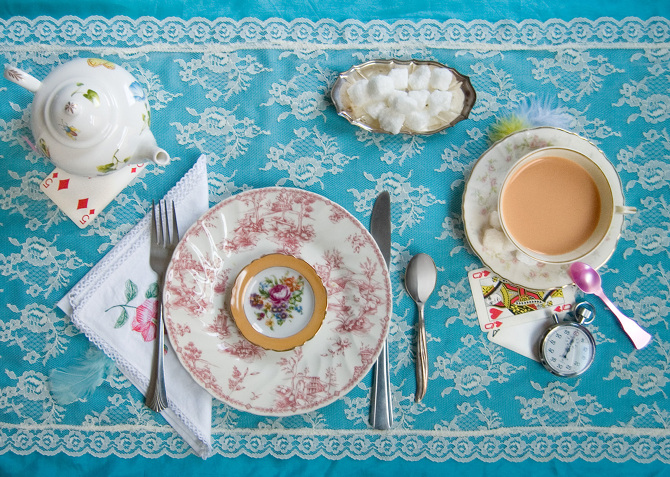 As writers, we know everything about our characters—their likes and dislikes, how they respond to challenges, their hopes and dreams. But what about the food they eat?
There are some truly memorable meals in literature: the Mad Hatter's tea party from Alice's Adventures in Wonderland; the bouillabaisse made by Henry Perowne in Ian McEwan's Saturday; how canned peaches become a true delicacy in Cormac McCarthy's The Road.
Now fifty of literature's most famous meals have been photographed and collected in Fictitious Dishes: An Album of Literature's Most Memorable Meals by Dinah Fried.
Fictitious Dishes serves up a delectable assortment of photographic interpretations of culinary moments from contemporary and classic literature. Showcasing famous meals such as the watery gruel from Oliver Twist, the lavish chicken breakfast from To Kill a Mockingbird, the stomach-turning avocado-and-crabmeat salad from The Bell Jar, and the seductive cupcakes from The Corrections, this unique volume pairs each place setting with the text from the book that inspired its creation. Interesting food facts and entertaining anecdotes about the authors, their work, and their culinary predilections complete this charming book, which is sure to whet the appetites of lovers of great literature and delicious dishes.
Fictitious Dishes will be published by HarperCollins in April, 2014. You can preview some of Dinah's selected meals here.