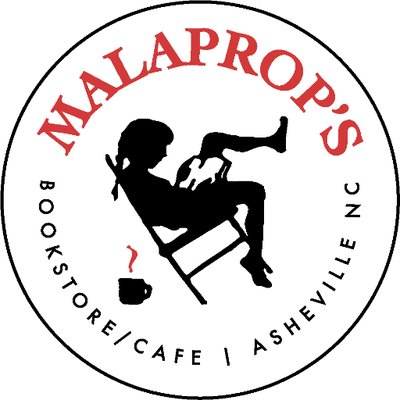 After thirty-seven years, Emöke B'Racz, the founder of Malaprop's Bookstore & Cafe in downtown Asheville, will step down as majority owner, effective immediately.
She hands the reigns to longtime employee Gretchen Horn, who is now majority owner of Renaissance Bookfarm, Inc., which owns Malaprop's Bookstore/Cafe and Downtown Books & News. Emöke will remain as founder and minority owner.
Malaprop's, founded in 1982, is an independent bookstore carrying a
"carefully curated selection of books for adults, children, and young adults, as well as a large array of gift items."
"I wanted Malaprop's to be a place where poetry mattered," says
Emöke, "where a woman's words were as important as a man's, where excellence was customary, where good writing had a home, where I could nurture my addiction to literature, and play, enjoy, and entertain people drawn to quality books."
By any standard, she has succeeded.
"I've gotten a lot of free coffee, free books, and free events for the last seventeen years," Gretchen, who began working at the cafe inside Malaprop's while she was an undergard at UNC-Asheville, jokes. "I love it here…I work for Emöke. And I essentially still will be because I want to retain her vision. I will always work for Malaprop's, which is a place that Emöke created."
In an article in The New York Times, author Anne Patchett said, "Malaprop's was the heart and soul of Asheville, N.C., when Asheville was a sleepy little hippie town, and it's still its heart and soul now that the city is cool and overcrowded, a position Malaprop's maintained by being unabashedly true to itself."
That same vision and commitment to staying "true to oneself" will no doubt continue now that Gretchen is at the helm.
Malaprop's is located at 55 Haywood St. in downtown Asheville.
Visit them on the web at https://www.malaprops.com. They're also on Facebook , Twitter, and Instagram.