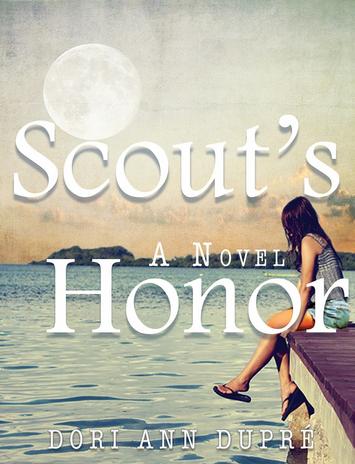 Workshops and sessions are only part of what Spring Conference is all about. Just as rewarding—and equally fun—is the chance to stroll the exhibit hall, where North Carolina-based vendors representing some of the most esteemed literary organizations in the state will happily chat with you about just about anything. It's a good chance to talk to publishers, to see what they publish and why, and to hear what they're excited about this year. After all, part of the purpose of any conference is to "network"—it says so right there in our name!
In our ongoing series, we're introducing this year's NCWN Spring Conference exhibitors. Here are a few more:
Dori Ann Duprè is the author of Scout's Honor. Born and raised in New Jersey, she graduated magna cum laude with a Bachelor of Science in History and is a veteran of the United States Army. Dori currently works in the legal field in North Carolina, where she resides with her family. Scout's Honor, her debut novel, tells the story of Scout Webb, a kind, spirited fourteen-year-old, a small town southern girl, and a tomboy. A story of a self, lost…a self, loathed…and a self, rediscovered…it examines the harsh and cruel ways in which otherwise well-intentioned and decent people treat each other…even those they claim to love, but even more so…ultimately, how we treat our own selves. Watch the trailer here.
The Greensboro Review is a local lit mag with an international reputation. Published by the MFA in Creative Writing Program at the University of North Carolina at Greensboro, they've been "old school" since 1965. They take submissions year-round, and sponsor the annual Robert Watson Literary Prizes. Recent issues have featured Dan Albergotti, Joseph Bathanti, Ansel Elkins, Philip Gerard, Jake Adam York, and NCWN 2016 Spring Conference faculty member Lauren Moseley, alongside many emerging writers. The Greensboro Review is edited by Jim Clark; Terry L. Kennedy is the Associate Editor.
LaVenson Press Studios seeks to offer women and young women writing workshops that instill emotional and psychological truth in their writing. As a way of nurturing not just the artistic mind, but also the body, light meals and snacks are prepared for participants from LaVenson Press Studios' organic garden. Because the studio's founder, Zelda Lockhart, feels that one's writing is not finished until it reaches its audience, LaVenson Press Studios also hosts a literary magazine, Firefly Ridge, which hosts a Poetry & Prose Literary Competition yearly. Lockhart's forthcoming book, The Soul of the Full-Length Manuscript, shepherds women (those without or with writing experience) through the sharing of an initial wound event in life, and through exercises that help them to transform internal obstacles into external gifts, and then write resolution and outcome.
Lucia Peel Powe earned her BFA in speech and drama at Wesleyan Conservatory in Macon, Georgia, and later attended UNC-Chapel Hill, Duke, and East Carolina University for graduate work. Eastern North Carolinians remember her as "Miss Lucia" on the syndicated program, Romper Room, produced in Greenville, NC. Over the years she has taught creative writing, speech, drama, music and art history at both college and high school levels. Along with her first husband, Judge Elbert "Junie" Peel, of Williamston, Lucia reared four daughters (Lucia Claire Peel, Mimi Peel Roughton, Sydney Peel Woodside and Elizabeth Peel), one horse, and several dogs and cats. Widowed for ten years, she married another attorney, E.K. Powe, of Durham, the father of three daughters. Her new book is The Osprey's View (Wisdom House Books).