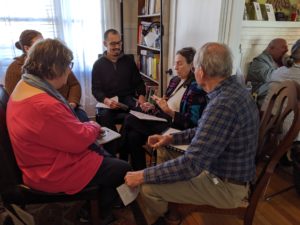 November 1 marks the beginning of National Novel Writing Month, better known as "NaNoWriMo." Over thirty days, thousands of writers around the globe commit to writing 50,000 words.
A 501(c)(3) non-profit that has become an international phenomenon, NaNoWriMo values "enthusiasm, determination, and a deadline…for anyone who has ever thought about writing a novel."
In the best of circumstances, writing a novel is a solitary endeavor. This year, the process runs the risk of feeling even more isolated. Which is why the NaNoWriMo website offers the option of signing up for an account, which will allow you to track your progress, set milestones, connect with other writers in a vast community, and participate in events that are designed to make sure you finish your novel. And it's all free!
For more information about NaNoWriMo, click here.
The Writingest State Online Conference comes at just about the midway point of NaNoWriMo, running November 10-14.
On Thursday, November 12, at 7:30 pm, NCWN will host a "NaNoWriMo Gathering" sponsored by Freedom.to.
Anyone planning to take part in NaNoWriMo, or anyone even mildly curious, is invited to meet for a casual, informal gathering. Some light refreshments will be provided, but participants should also feel free to BYO!
And if you're still struggling with a scene by then, on Saturday, November 14, at 12:45 pm, the final day of the fall extravaganza, NCWN will host a "Prompt Party" sponsored by Plottr.
Prompt Party is an opportunity for writers to gather and work together on a specific prompt, with time to share results at the end. The goal is to collaborate, perhaps work in an unfamiliar genre, and have fun. Prompt Party-goers will receive their prompt, divide into groups by genre—poetry, flash fiction (1,000 words or less), or one-act plays—and head off into Breakout Rooms to write a piece based on the prompt. Party-goers will have 30 minutes to collaborate and create a draft in their assigned genre. Then, everyone gathers again to read (or perform) their pieces, up to five minutes each.
Registration for The Writingest State Online Conference is open.
Good luck and godspeed!