By Ed Southern, Executive Director, North Carolina Writers' Network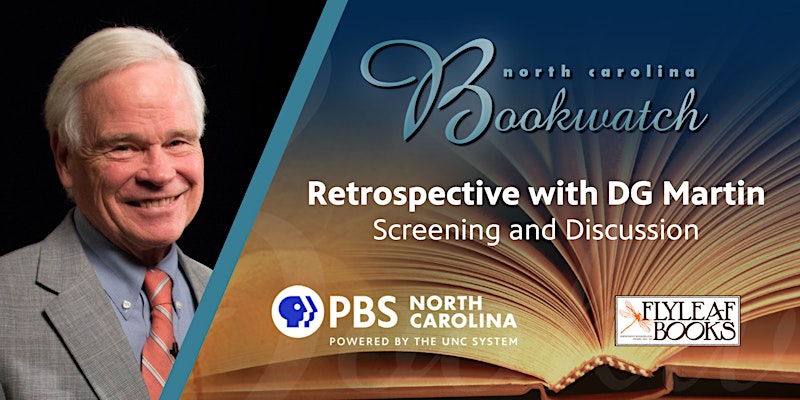 North Carolina Bookwatch first aired on what was then UNC-TV in 1997.
That seems impossible to me. 1997 was a long time ago, and yet it doesn't seem long enough to have seen the launch of an institution like Bookwatch. (I know it's an example of the Mandela Effect, but even though I know better, I'd have assumed that some archive in RTP held old black and white footage of Sam Ragan interviewing Randall Jarrell and Wilma Dykeman.)
Now I have to contemplate a North Carolina without Bookwatch. What's now PBS North Carolina has announced that this season, its 23rd, also will be its last.
As soon as it began, North Carolina Bookwatch became a vital, a foundational part of the literary community it celebrated and chronicled. For two years with original host Robin Minietta, and ever since with D. G. Martin, Bookwatch brought North Carolina authors onto TV screens across the state.
Hundreds of our fellow North Carolina writers got to sit across from D. G. and talk about their latest books: the stories told, the questions explored, the settings evoked. They talked about how North Carolina inspired and nurtured and frustrated them.
D. G., unlike a lot of other media hosts, quite obviously had read every book featured on the show, as well as a great many that weren't featured but worked their way into his questions. He said, though, that he never wrote a list of questions: He preferred to have conversations, to follow his curiosity and his guests' responses wherever they led.
(As a side note, D. G. may be the Most Interesting Man in North Carolina: Davidson basketball player under legendary coach "Lefty" Driesell, Green Beret, Yale Law graduate, college administrator, environmentalist, and voracious reader. I've been lucky enough to serve with D. G. on a couple of committees, something I came to with no experience of it, and learned more by watching him than I could have by memorizing Robert's Rules of Order.)
The 23rd and final season of North Carolina Bookwatch will premiere on PBS North Carolina this Sunday, November 7, at 3:30 P.M., with repeat broadcasts on Tuesday, November 9: at 5 P.M. on PBS NC, and at 8 P.M. on the North Carolina Channel.
Guests this season will include Wiley Cash, NCWN trustee Annette Saunooke Clapsaddle, and NC Literary Hall of Fame inductees Clyde Edgerton and Bland Simpson.
On Thursday, November 18—the day before the 2021 Fall Conference—PBS NC will host a special online event to celebrate the show and its host. The event begins at 7 P.M. and is free and open to the public. Additional event information and registration can be found on Eventbrite.
North Carolina Bookwatch will end with "a primetime retrospective special on Tuesday, December 7, at 8 PM, on PBS NC," with Simpson joining D. G. for "a loving look back at the many books and authors that shared the North Carolina Bookwatch set over the years."
Then we'll have to figure out how to remain "the Writingest State" without Bookwatch. It won't just happen, and it won't be easy.