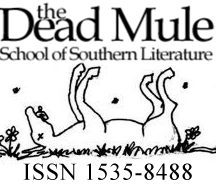 "No good Southern fiction is complete without a dead mule," says Val MacEwan, editor and publisher of The Dead Mule School of Southern Literature.
The distinctive name of this online literary magazine, founded in 1996, orginiated in a paper about "Equine Signifiers in Southern Literature" by Dr. Jerry Leath Mills, and it's a fitting moniker for a publication that hopes to celebrate the "quirks, follies, and faults" not only of the easter North Carolina region where it was founded but the individuality of Southerness at large. For The Dead Mule School of Southern Literature, the South "contains all sides of all arguments."
Recent publications include fiction by Anne Anthony, Ted Harrison, and John Patrick Sheridan; poetry by North Carolina Literary Hall of Fame inductee Kathryn Stripling Byer, Charles Hassell, and May Jordan; and memoir/essays (which seem at first blush to be the majority of material published by The Mule, and a writer's best chance to appear in its pages) by Meredith Baker, Billy Malanga, and Wendy Reed.
Those interested in submitting to The Dead Mule School of Southern Literature should first hammer out their "Southern Legitimacy Statement, as "each section of The Mule (fiction, poetry, essay) begins with a page containing the contributor's names and their Southern Legitimacy Statement."
For nonfiction, submit 500-2,500 words; for fiction, up to 2,000 (but flash fiction makes them "truly smile"); for poetry, they are "so far behind in reading/publishing poetry, we honestly don't recommend you submit." So, there's that.
The current open reading period ends September 1.
To read fresh new content, click here. To explore the archives, which are slowly being restored, click here.
The Dead Mule School of Southern Literature is also on Facebook and Twitter.