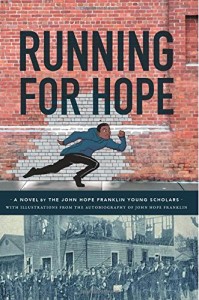 Celebrated historian John Hope Franklin was inducted into the North Carolina Literary Hall of Fame in 1998. Now, thirty students from Duke University's John Hope Franklin Young Scholars Program have self-published an unusual book that weaves illustrated scenes from Franklin's life with the story of a fifteen-year-old boy who gets into trouble and recovers by connecting with the prolific author.
From the blurb:
Kendrick Parker isn't quite sure what's going on with his life. He doesn't know if the girl he is interested in really likes him back and his best friend is having troubles of her own. More importantly, his parents are keeping him up at night with their yelling. It's getting harder and harder to get to school on time, something his history and track coach, Mr. Douglass notices. Hoping to inspire Kendrick, Mr. Douglass hands him a copy of the graphic novel version of Mirror to America, renowned historian John Hope Franklin's autobiography. Little does he realize how much it will encourage him to take action.
The John Hope Franklin Young Scholars Program, part of Duke's Center for African and African-American Research, introduces high-potential middle schoolers—mostly members of under-represented minorities—to university research, paving their path toward college. Past projects have included researching the background of scarf joints in the barn at the Stagville Plantation in Durham; learning about the Great Migration through travels to Greensboro and Wilmington; and next year, creating a documentary about the little-known Civil Rights movement in NC during the Civil War.
John Hope Franklin's literary landmark, From Slavery to Freedom, is now in its ninth edition and has been translated into five languages, with more than three million copies sold. This book, more than any other, has reshaped the way African-American history is understood and taught.
"My challenge," he said, "was to weave into the fabric of American history enough of the presence of blacks so that the story of the United States could be told adequately and fairly."
Running For Hope: A novel by the John Hope Franklin Young Scholars with illustrations from the autobiography of John Hope Franklin, is available through some local bookstores or www.Amazon.com.