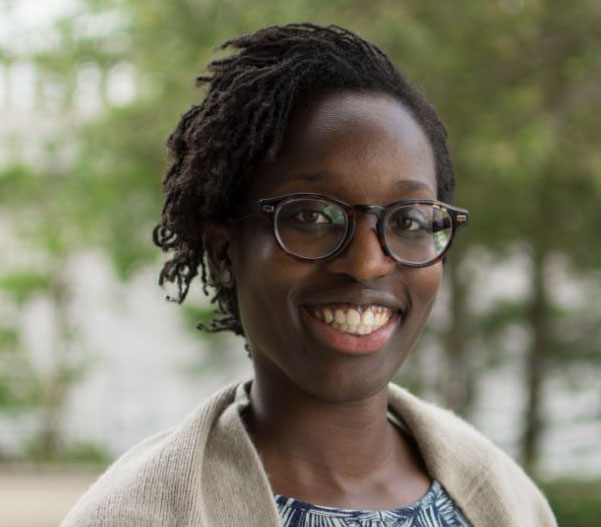 DURHAM—Bull City author Jasmine Kumalah has been named the recipient of the 2020 Sally Buckner Emerging Writers' Fellowship.
Jasmine's excerpt from her novel-in-progress, Birds Under Water, explores the boundaries of poetry and prose through the story of a girl named Fatima and her migration from the fictionalized country of Bantunia.
Along with a $500 stipend, Jasmine wins a full scholarship to attend the North Carolina Writers' Network 2019 Fall Conference, November 8-10, in Asheville. She also receives a one-year membership in NCWN.
Jasmine Kumalah is a Sierra Leonean-Togolese American writer based in Durham. She is the author of novella Holding Demons in Small Jars (Lystra Books & Literary Services, 2016). Her essays and art reviews have been published in Black Girl Dangerous, Ayiba Magazine, AADAT online magazine, Interrupt MAG and the anthology Walking the Tightrope: Poetry and Prose by LGBTQ Writers from Africa.
"The judges were uniformly impressed with the artistic strength of [her] submitted work sample," said June Guralnick, who facilitates the fellowship, "and [her] interview candor."
Jasmine was selected from a list of three finalists, including Hazel Foster and Hampton Williams Hofer, both NCWN members. The judges praised the quality of writing from all this year's finalists.
This year's judges included NCWN trustee Michele T. Berger; Chris Tonelli; and former NC Poet Laureate Joseph Bathanti.
The North Carolina Writers' Network offers the annual Sally Buckner Emerging Writers' Fellowship, in honor of the late poet, editor, and educator. The Buckner Fellowship supports emerging writers whose work shows promise of excellence and commitment to a literary career.
Applicants must be in the early stages of their careers and will not have had yet the support needed to achieve major recognition for their work. No specific academic background is required or preferred. Each year the program will accept applications from writers working primarily in one of four specified genres, rotated over a four-year cycle.
The 2021 genre will be announced at a later date; submissions open for the 2021 Buckner Fellowship on May 1 and run through June 30.
Award recipients are invited to somehow "pay it forward." Jasmine Kumalah intends to use her year to inspire others to write.
A native of Statesville, Sally Buckner taught every level from kindergarten through graduate school, including twenty-eight years as a faculty member at Peace College, inspiring thousands of young people to find their own unique writing voices. Buckner's published nonfiction, fiction, and poetry can be found in numerous journals, and in 1986, her collection of poetry, Strawberry Harvest, was published by St. Andrews Press. Other poetry collections include Collateral Damage (2008) and Nineteen Visions of Christmas (2011). Buckner edited two well-known anthologies of North Carolina literature: Our Words, Our Ways: Reading and Writing in North Carolina (1991) and Word and Witness: 100 Years of NC Poetry (1999).
For more about Sally Buckner, click here.
The North Carolina Writers' Network connects, promotes, and serves writers of this state, providing education in the craft and business of writing, opportunities for recognition and critique of literary work, resources for writers at all stages of development, support for and advocacy of the literary heritage of North Carolina, and a community for those who write.
For more information, visit www.ncwriters.org.