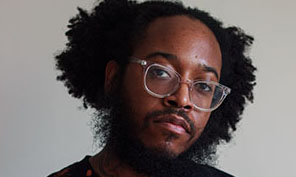 DURHAM—Phillip Loken, the Associate Digital Marketing Manager, and Ellen C. Bush, the Associate Digital Marketing Manager at UNC Press, will lead the session "Nerd Cool 101: Making Your Book Shine Online" at the North Carolina Writers' Network 2021 Fall Conference, November 19-21, at the Sheraton Imperial Hotel in Durham/RTP. 
Conference registration is open.
Phillip Loken (he/him) is the Associate Digital Marketing Manager at UNC Press with 5+ years of digital marketing experience from working with Noirbnb, Lumina Clothing, Urbane Luggage, and Infinite Magazine. Phill is also a Raleigh, NC-based multimedia fine artist offering a unique approach to the documentation of Black southern culture, encompassing some of what you're familiar with and some of what you're not.
This year, NCWN is asking authors for "one good piece of advice," either something they were once told that they never forgot, or something they wished they could go back and tell their younger selves. 
"Don't undervalue the power of self-promotion," Phillip says. "Getting reviews, coverage, and features from various publications related to your book can justifiably be a task for whoever is publishing your book, but you more than likely already have some type of community of supporters around you that you may not have taken full advantage of. Social media is a great place to start, but creating a website for yourself as an author and including information about your book is a great asset as well."
In this crash course on how to effectively promote your work online, "Nerd Cool 101: Making Your Book Shine Online," we'll outline the basic principles of metadata, online discoverability, and search engine optimization (SEO); offer tips for engaging with online platforms and social media; and examine a case study of a successful online marketing campaign. An in-class exercise will get you started planning your own campaign, and we'll answer all your burning questions about promoting your work online. Whether you have a book to promote or just want to establish a more visible platform for your work, this session will help you create an online presence that amplifies your own authentic voice and helps you build new creative connections and relationships.
"Nerd Cool 101: Making Your Book Shine Online" is sponsored by UNC Press.
Fall Conference attracts hundreds of writers from around the country and provides a weekend full of activities that include lunch and dinner banquets with readings, keynotes, tracks in several genres, open mic sessions, and the opportunity for one-on-one manuscript critiques with editors or agents. North Carolina Poet Laureate Jaki Shelton Green will give the Keynote Address. Additional business of books sessions include "How to Get Paid Without Anyone Getting Hurt" with Alice Osborn; "For Love and Money: Business Professionalism for Writers" with Karin Wiberg; and "Pathways to Publishing: Know ALL Your Options" with Tracy Crow.
Register here.
The nonprofit North Carolina Writers' Network is the state's oldest and largest literary arts services organization devoted to all writers, in all genres, at all stages of development. For additional information, visit www.ncwriters.org.