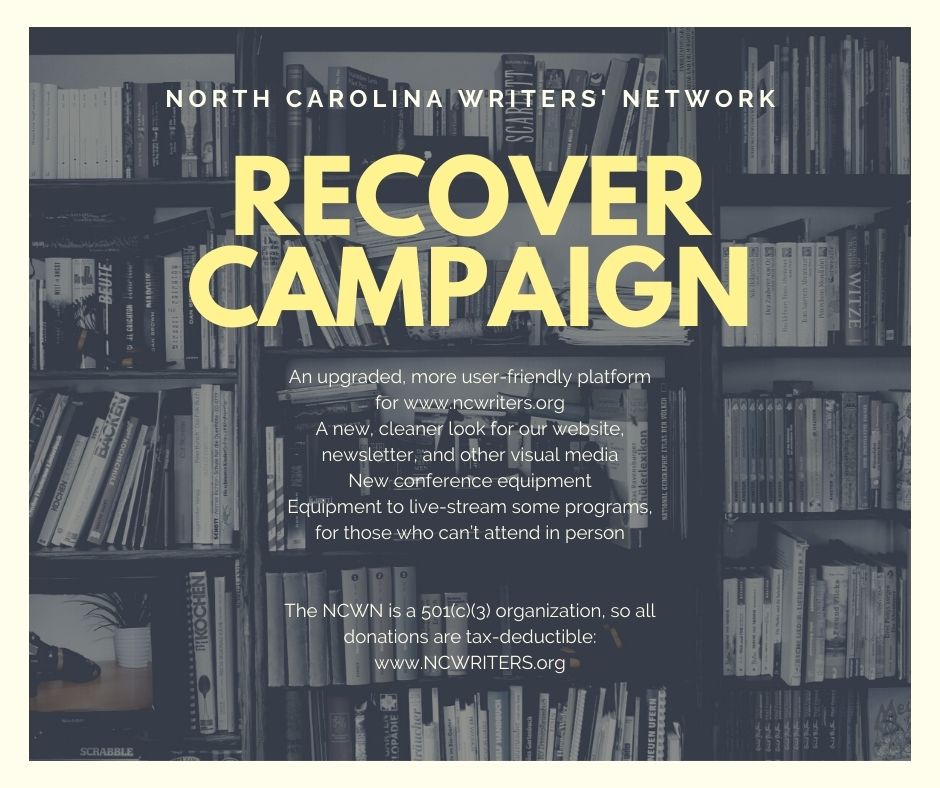 WINSTON-SALEM—Last April, the North Carolina Writers' Network launched an emergency fund drive that turned into its most successful fundraising campaign ever.
This April, the Network is launching a less urgent but more ambitious fundraiser: the ReCover Campaign.
"We want to tell people that the Network's story is still powerful and compelling, but its pages sure could use a new binding and dust jacket," NCWN Executive Director Ed Southern said. "The ReCover Campaign can be everything last year's 'COVID April' appeal was not: assured instead of urgent; bold instead of fearful; forward-looking instead of tentative."
The ReCover Campaign seeks funds to address specific NCWN needs:
An upgraded, more user-friendly platform for www.ncwriters.org
A new, cleaner look for our website, newsletter, and other visual media
Equipment to live-stream some programs, for those who can't attend in person
New conference equipment
The Network also hopes to take care of more mundane needs like microphones, mic stands, amps, signs, and new phones for its staff.
"Our Membership Coordinator's phone is seven years old," Southern said. "Our Communications Director doesn't even have a Network-issued phone. Mine is thirteen years old, and a landline."
In a letter being sent to all NCWN members, Southern wrote, "With these upgrades we can pursue our mission to connect, promote, educate, serve, and lead writers more effectively. We can make sure our members not only have access to the excellence, opportunity, and community that all writers need, but that they have it at their fingertips."
The NCWN is a 501(c)(3) organization, so all donations are tax-deductible. Gifts can be made online or by checks made out to NCWN and mailed to P.O. Box 21591, Winston-Salem, NC, 27120.